Englund Marine | J-BRAID 4X FILLER & BULK LINE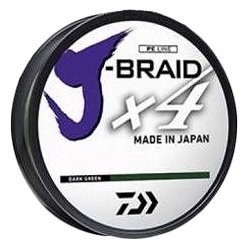 J-BRAID 4X FILLER & BULK LINE
Daiwa J-Braid 4X is a 4 carrier braided line designed for high abrasion resistance and easy knot tying and line management. J-Braid is manufactured from Dyneema, a well-known material that provides high strength with abrasion resistance. It also features a smaller diameter than other conventional braids of the same test. It comes in a variety of colors, tests, and is available in filler and bulk spools.
Features (Click to expand):
Dark Green: Natural presentation for applications where the hook or lure is tied directly onto the line - without a leader.
Fluorescent Yellow: Highly visible to aid in detecting the slightest line movements.
Island Blue: High visibility while incorporating water and sky contrast.
Multicolor: Color changes every ten meters to allow you to get into the strike zone quickly.
Specifications (Click to expand):
| SKU | TEST (lb / kg) | DIAMETER (in / mm) | EQUIVALENT MONO | SPOOL LENGTH (yd / m) |
| --- | --- | --- | --- | --- |
| DAI-JB4U10-300__ | 10lb / 4.8kg | 0.007" / 0.17mm | 2.5 | 300yd / 270m |
| DAI-JB4U10-3000__ | 10lb / 4.8kg | 0.007" / 0.17mm | 2.5 | 3,000yd / 2,700m |
| DAI-JB4U20-300__ | 20lb / 9.5kg | 0.008" / 0.21mm | 6 | 300yd / 270m |
| DAI-JB4U20-3000__ | 20lb / 9.5kg | 0.008" / 0.21mm | 6 | 3,000yd / 2,700m |
| DAI-JB4U30-150__ | 30lb / 14kg | 0.01" / 0.25mm | 8 | 150yd / 135m |
| DAI-JB4U30-300__ | 30lb / 14kg | 0.01" / 0.25mm | 8 | 300yd / 270m |
| DAI-JB4U30-3000__ | 30lb / 14kg | 0.01" / 0.25mm | 8 | 3,000yd / 2,700m |
| DAI-JB4U40-3000__ | 40lb / 19kg | 0.011" / 0.29mm | 10 | 3,000yd / 2,700m |
| DAI-JB4U50-150__ | 50lb / 23kg | 0.013" / 0.33mm | 12 | 150yd / 135m |
| DAI-JB4U50-330__ | 50lb / 23kg | 0.011" / 0.29mm | 12 | 330yd / 301m |
| DAI-JB4U65-330__ | 65lb / 30kg | 0.014" / 0.36mm | 16 | 330yd / 301m |
| DAI-JB4U80-150__ | 80lb / 38kg | 0.017" / 0.42mm | 20 | 330yd / 301m |
00P