Englund Marine | J BRAID 8X 3000 YD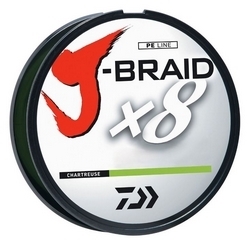 J BRAID 8X 3000 YD
Daiwa J Braid 8X Fishing Line is a high quality, 8 carrier braid line made of tightly woven fibers that provides a round profile, resulting in a much stronger, softer and smoother line. Sold by 3300-yard spool or by the yard.
Features (Click to expand):
Dark Green: Natural presentation for applications where the hook or lure is tied directly onto the line - without a leader.
Chartreuse: Highly visible to aid in detecting the slightest line movements.
White: Offshore applications in low or dark light conditions. Attracts fish looking up against the sky and water surface.
Multi-color: For deep drop fishing. Color changes every 10 meters for easy depth indication and line movement.
Specifications (Click to expand):
| TEST | DIAMETER | EQUIVALENT DIAMETER MONO |
| --- | --- | --- |
| 50 lb. test | 0.014" | 12 lb. test |
| 65 lb. test | 0.016" | 16 lb. test |
| 80 lb. test | 0.017" | 20 lb. test |
| 120 lb. test | 0.022" | 25 lb. test |
| 150 lb. test | 0.026" | 50 lb. test |
00P