Englund Marine | POLYSTEEL CRAB ROPE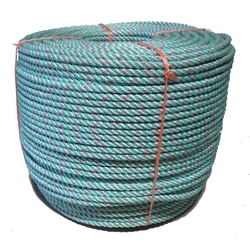 POLYSTEEL CRAB ROPE
Polysteel Crab Rope is constructed of filaments which are extruded on a state of the art computerized production line that monitors all aspects of the manufacturing process to extremely tight tolerances. It is the strongest synthetic rope in its class because of the extremely tight tolerances from fiber extrusion to the finished rope. It is approximately 40% stronger than polypropylene/polyethylene and has no loss of strength when wet. Available in 1200 ft coils.
Features (Click to expand):
18% elongation
Excellent UV protection
Superior abrasion resistance
Stores wet
Resists rot and mildew
Specifications (Click to expand):
PART #
SIZE
TENSILE STRENGTH (LBS)
CG-RPS516
5/16"
3,700
CG-RPS38
CG-RPSM38
3/8"
4,330
CG-RPS716
7/16"
4,400
CG-RPS12
1/2"
5,100
Items noted as Call for Price are sold by 1200' spool.
| | | | | | | | |
| --- | --- | --- | --- | --- | --- | --- | --- |
| | | Item | Description | Available ? / Hover | Price | UM | Ord Qty |
| | | CG-RPSM38 | MED POLYSTEEL 3/8 "1200 SPOOL | 32 | Call for Price | | |
| | | CG-RPSGR12 | POLYSTEEL CRAB ROPE 1/2" GR | 22 | Call for Price | | |
| | | CG-RPSGR38 | POLYSTEEL CRAB ROPE 3/8" GR | 0 | Call for Price | | |
| | | CG-RPSGR716 | POLYSTEEL CRAB ROPE 7/16" GR | 100 + | Call for Price | | |