Englund Marine | REPLACEMENT "T" WRENCH HANDLE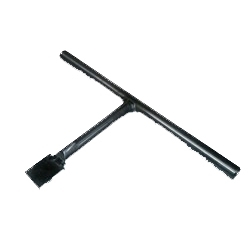 REPLACEMENT "T" WRENCH HANDLE
Item Number FRE-TWH
Mfg. Part Number 212008
The Freeman Replacement "T" Wrench Handle is a removable deck hatch handle that fits into the doggin mechanism and has a small hole in the shaft for use with the actuator pin on the hatch. For use with all Freeman hatches.
Dimensions (Click to expand):
Handle: 12"L x 1"W
Shaft: 6" Long
Shaft diameter: 3/4"