Englund Marine | STREAMLINED BOLT-ON ALUM ANODES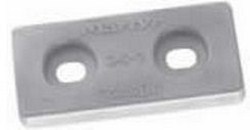 STREAMLINED BOLT-ON ALUM ANODES
CMP Global Streamlined Bolt-On Hull Aluminum Anodes are for use in salt and brackish water and meets MIL-A-24779(SH) specifications. They feature interlocking halves with extra alloy around the fasteners and a 100% circular radius. Aluminum anodes are not recommended for use in fresh water.
Sizes (Click to expand):
ALA-ZHC2: 5-3/4"L x 2-1/2"H x 3/4"W, 0.80 lb.
ALA-ZHC3: 6-1/4"L x 2-3/4"H x 3/4"W, 0.78 lb.
ALA-ZHC4-HD: 6"L x 4"H x 1/2"W, 2.68 lb.
ALA-ZHC5: 8"L x 4"H x 3/4"W, 1.75 lb.