Englund Marine | TANACOM POWER ASSIST REELS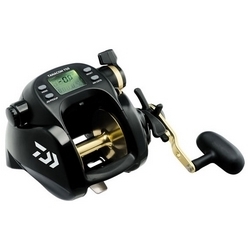 TANACOM POWER ASSIST REELS
Daiwa Tanacom Power Assist Reels are perfect for halibut and deep drop fishing such as tilefish, cod, halibut, lingcod, sand dabs, and are even capable of serving as a light kite reel. They have an LCD display that reads out in English, automatic stop and jigging features, as well as line counter and depth memory. They have a sealed electronics package, sealed drag system and an oversize line guide aperture to clear large knots. These reels are much smaller in size than most electric reels, and can be fished stand-up with rod in hand instead of from a rod holder.
Features (Click to expand):
12 Volt system (12-16.8V)
Washable
Variable speed power lever control
4 Stainless steel ball bearings
Includes power cord and reel clamp
Specifications (Click to expand):
PART #
BEARINGS
GEAR
RATIO
LINE PER
TURN
WEIGHT
CAPACITY
LB TEST/YD
DRAG
MAX
TANACOM500
7
(CRBB+6BB)
3.7:1
22.3"
28.2oz
MONO: 12/110, 14/100
J-BRAID: 40/550, 50/440
33
TANACOM750
4
2.3:1
16.5"
44.4.oz
MONO: 25/590, 30/450, 40/310
J-BRAID: 60/770, 80/550, 100/440
48
TANACOM1000
4BB
2.3:1
16.5"
53.0oz
MONO: 30/700, 40/500
J-BRAID: 80/880, 100/660, 120/550
48
Daiwa Reel/Line Combos (DAI-T750-65B &DAI-T750-80GG): Ready-to-fish reel/line combos pre-loaded with 500 yards of Daiwa J-Braid line. These combos feature the Daiwa Tanacom 750 reel (see above for details) with the choice of Daiwa J-Braid 65 lb test in island blue or J-Braid 80 lb test in dark green. Daiwa J-Braid is made from Dyneema and Izanas and designed for high abrasion resistance and easy knot tying and line management. The island blue color has high visibility while incorporating water and sky contrast. The dark green color has a more natural color in situations where you may want to tie your hook or lure directly onto the line-without a leader.
Reel & Line Combo Components & Specifications (Click to expand):
DAI-TANACOM750 Tanacom 750 Power Assist Reel:
BEARINGS
GEAR
RATIO
LINE PER TURN
WEIGHT
CAPACITY (LB TEST/YD)
DRAG MAX
4
2.3:1
16.5"
44.4.oz
MONO: 25/590, 30/450, 40/310
J-BRAID: 60/770, 80/550, 100/440
48
Daiwa J-Braid x4:
| TYPE | LB TEST | COLOR | DIAMETER | EQUIVALENT DAI MONO |
| --- | --- | --- | --- | --- |
| J-Braid Line | 65 lb test | Island Blue | 0.014" (0.36mm) | 16 lb test |
| J-Braid Line | 80 lb test | Dark Green | 0.017" (0.42mm) | 20 lb test |