Englund Marine | TRAILER 12141000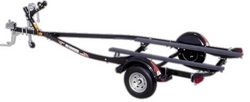 TRAILER 12141000
Item Number ELT-EZB12141000
Mfg. Part Number 58BT 12-14 100
The EZ Loader Adjustable Bunk Trailer accommodates a boat with a length of 12 to 14 feet and a weight of 1000 lbs. This single axle trailer comes complete with two bunks, a manual winch, standard lights, and a 2" coupler.
Features:
Torsion style axle
Tire size: 180X12B
Approx width between fenders: 44"
Approx overall width: 58"
Approx overall length: 16' 7"