Englund Marine | WOOD CHIPS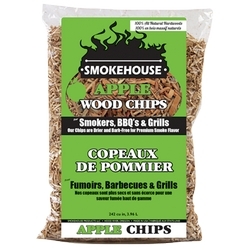 WOOD CHIPS
Smokehouse Products Wood Chips are fully dried pieces with bitter tree back removed for maximum all-natural wood smoke. The chips are also precision ground for an even consistant burn. Each bag is 1.75 pounds.
Flavors (Click to expand):
Alder: Neutral, balanced smoke. Ideal for fish and all types of meat.
Apple: Mildly sweet smoke. Ideal for pork, beef and poultry.
Cherry: Sweet, dense smoke. Ideal for any cut of meat.
Hickory: Sharp, tangy smoke. Ideal for fish, poultry and meat, especially BBQ applications.
Mesquite: Smokey campfire taste. Ideal for beef, pork and chicken.