_Razor Clamming | Englund Marine & Industrial Supply

Englund Marine & Industrial Supply has all your razor clamming needs!
Razor clamming is a popular pastime in the Pacific Northwest and Englund Marine is here to supply you with all the gear and information you need for a productive time on the beach. From getting your license to finding and digging razor clams to processing and cooking them, we have you covered!
---
Regulations & Licensing
Before you head out, make sure you know what you need to legally razor clam in the state you are digging in. We've gathered the important information in one place so you can easily access it. Disclaimer: The following information is based off of the rules at the time of writing, regulations are subject to change. While we do our best to keep fully up to date, the license holder is ultimately responsible for being aware of any changes to the rules and regulations.
General Rules In Oregon & Washington:
Take what you dig: Daily limits include all clams harvested regardless of size or breakage. If you dig it, count it! A majority (up to 80%) of clams that are "put back" die due to body damage or because they are not re-inserted properly. Below you can find tips on avoiding small clams and shell breakage.


Wait to clean: In order for accurate limit count, clams must stay whole until you have left the beach.


Carry your own: Regardless of age, a person must carry their own harvest and have their own container to hold their clams.
Oregon Information (Click to expand):
Licensing Info:
Online licensing: ODFW Online Licensing System.


Englund Marine in-store razor clam licensing:

Astoria: Oregon Resident Shellfish Licenses, Oregon Non-Resident 3 Day License.
Newport: Oregon Resident Shellfish Licenses, Oregon Non-Resident 3 Day License.
Charleston: None



ODFW licensing information:

Astoria: 503-325-2462
Newport: 541-867-4741
Charleston: 541-888-5515



Kids under 12 do not need a license.


Oregon allows disabled persons to be assisted while digging for clams. A shellfish license is still required. Learn more about Oregon Disabilities Hunting and Fishing Permit information here.
Regulations:
Daily limit: First 15 taken.


Razor clams may be taken by hand, shovel, or cylindrical gun or tube. The opening of the gun/tube must be either circular or elliptical with the circular gun/tube opening having a minimum outside diameter of 4 inches and the elliptical gun/tube opening having a minimum outside diameter dimension of 4 inches long and 3 inches wide.


Each digger must have their own container, dig their own clams, and may not possess more than one limit of clams while in the harvest area except under a Permanent Disabilities Permit.


Clatsop County beaches north of Tillamook Head closed to razor clams July 15-September 30.


Washington Information (Click to expand):
Licensing Info:
Regulations:
Daily limit: First 15 taken.


Razor clams may be taken by hand, hand-operated shovel, or tube with a minimum outside diameter of 4" or (4" x 3" if elliptical).


Each digger must use a separate container, but may share digging equipment.


---
Where & When To Go Clamming
There are a variety of razor clam beaches up and down coast in Washington and Oregon. Before you go, make sure to know if razor clamming is open in the area. There are sections on the coast that have Conservation Closures during certain times of the year to make sure clam populations stay healthy for future harvests. Other areas may close due to elevated levels of domoic acid toxin. You can find information on tentative clamming schedules below, or by clicking here for Oregon or here for Washington.
The best time to harvest is during low tide, preferable minus (also known as negative) tides. The further the tide is out, the more beach is exposed for clamming. You can find tide information online or in a Tide Book, which can be found at any Englund Marine store, sporting goods store, convenience store and the like. Pro tip: Plan on getting to the beach 2 hours ahead of a favorable tide!
Oregon Beaches & Openings (Click to expand):
Beaches:
18 Miles of Clatsop County beaches from Tillamook Head (Seaside) to the Columbia River


Indian Beach (Cannon Beach)


Cannon Beach


Short Sands (North of Manzanita)


Cape Meares Beach (Tillamook)


Agate Beach (North of Newport)


North Beach and South Beach (Newport)


Waldport Beach


North Umpqua Spit (Winchester Bay)


Bastendorff Beach and North Spit (Coos Bay)


Whiskey Run (Bandon)


Meyers Creek Beach (Gold Beach)
Times:
Washington Beaches & Openings (Click to expand):
Beaches:
Long Beach from the Columbia River north to the mouth of the Willapa Bay


Twin Harbors from Willapa Bay north to the south jetty at the mouth of Grays Harbor


Copalis Beach from the north jetty at the mouth of Grays Harbor to the Copalis River


Mocrocks from the Copalis River to the south boundary of the Quinault Indian Reservation


Kalaloch from the South Beach campground north to ONP Beach Trail 3. (This beach is closed to harvest until further notice)
Times:
---
Get The Gear You Need
Get the right gear for productive razor clam hunting! From clam guns and shovels to lanterns and boots, Englund Marine has you covered. Not sure what you need? Stop in an Englund store and our expert staff will get you equipped with the clamming products that meet your needs. Click here to find the closest Englund store to you.
Clam Gear:
We have what you need to dig your limit whenever the tide is right.
Shop Now:
Stay Warm & Dry:
Conditions for clamming can range from sunny mornings to cold and wet evenings and everywhere in between. Make sure you have the right layers for the conditions and bundle yourself and your family up when the weather is looking rough!
Shop Now:
---
How To Clam
Now that you know what you need before you dig and what beaches to dig at, it is time to learn how to dig the clams! Successful harvests take practice and there may be a few broken shells along the way, but keep at it and you'll be a pro in no time. Don't Forget! You must keep the first 15 razor clams you dig, even if you break the shell!
Look For Shows:
When a clam feeds, withdraws it's neck or starts to dig, they leave a hole or dimple in the sand. Since clams only move vertically, it is a good indication there is clam under the show. Larger sized holes often a good indicator of a larger clam, but not always. There are 3 types of shows:
Dimple: Soft, round indentation.
Doughnut: A dimple with raised sides.
Keyhole: An open hole in the sand, usually found in drier areas.
Not sure if the dimple you see is a razor clam? Pound the sand next to it with your shovel, foot or sand tamp. If the dimple collapses and forms a open hole, you have a razor clam! You can also stomp on the sand near the water line to see if any clams spew water as they bury themselves. As the tide recedes, a razor clam may also show by "necking", when their second siphon is exposed to breathe. Necking can cause a small "V" shape in the receding water.
Digging Razor Clams:
Razor clams are fast diggers, and can dig themselves down 6 to 24 inches under the sand, some even deeper. There are two methods for digging clams: clam shovel and clam gun. Whichever tool you use, dig carefully. Razor clams' shells break easily and can cut you! A broken clam shell still counts to your limit. Click here for a downloadable PDF by ODFW with pictures of how to dig clams.
Using A Clam Shovel (click to expand):
Insert shovel straight down (6 inches deep) perpendicular to the clam's position in relation to the beach. The handle of the shovel should be pointed away from the ocean.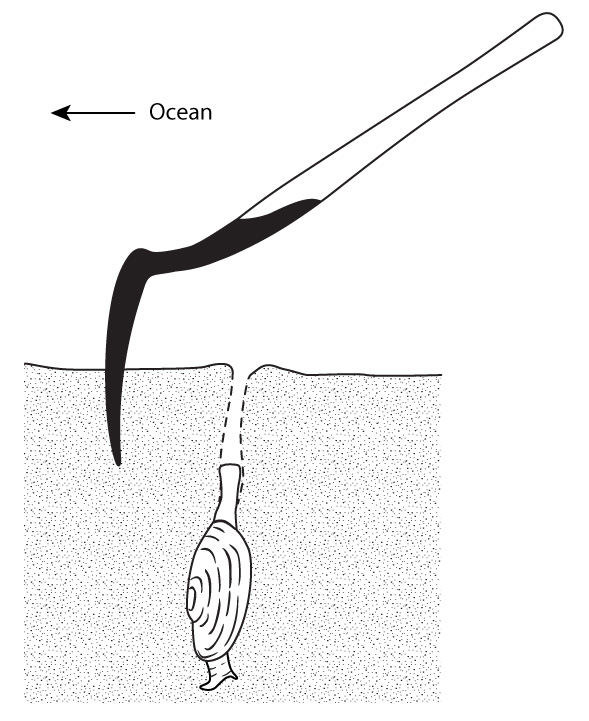 Push the shovel blade straight down into the sand, rocking the shovel handle from side to side for easy entry. Pull the handle back to break the suction. Cracks should appear on the sand at this point.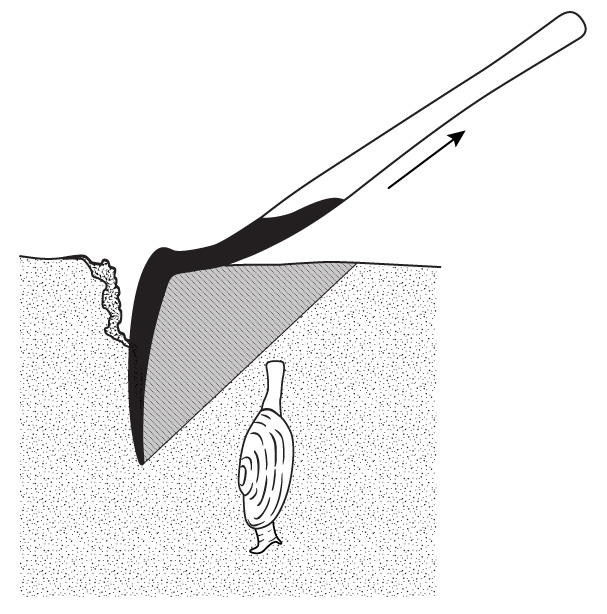 Remove sand by lifting the shovel up and forward to expose the clam. Once you have located the clam, use your hand to reach in and grasp the shell to manually extract it. This reduces the chance of damaging the shell. If the shell breaks, it still counts toward your limit. Do not replace a small or damaged clam.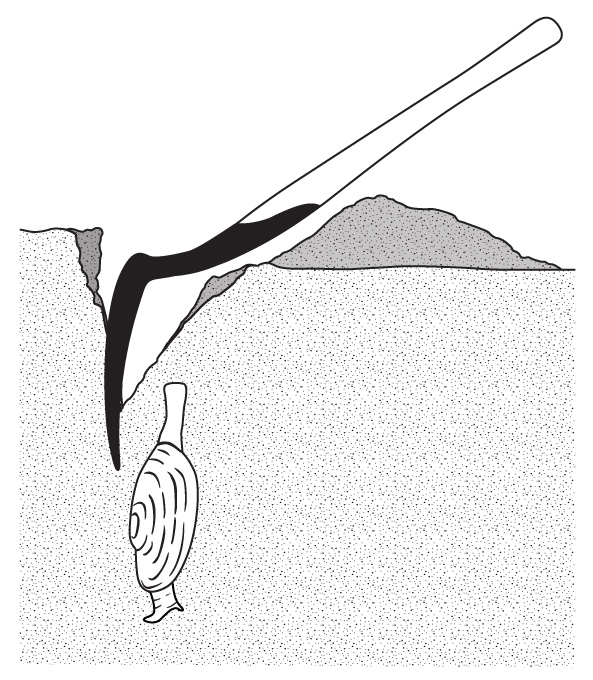 Using A Clam Gun (click to expand):
Facing the ocean, place the clam gun tube off center from the show. Slant the top of the tube slightly away from the ocean. Make sure the air hole is open and then drive the tube into the sand with a twisting motion.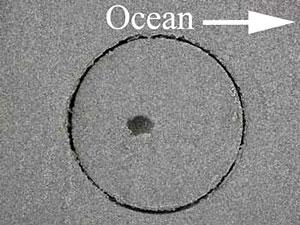 Cover the air hole on the gun and lift it out of the sand. Use your knees and keep your back straight! Pulling the gun out can be very heavy and correct lifting technique will help to reduce chances of injury.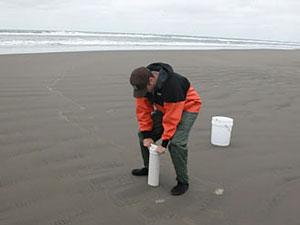 Move the sand-filled gun to the side of the hole and remove your finger from the air hole. The sand will slide out of the gun, however, you may need to shake the sand out if it doesn't slide freely. Your clam should be in the pile of sand from the gun. If not, use your hand in the hole and dig the clam out manually. Do not replace a small or damaged clam.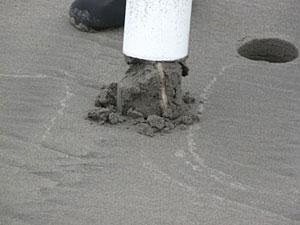 ---
Sign up for our email list and get specials, announcements, class opportunities and more delivered directly to your inbox! Click here to be added to our email list or text EMIS1944 to 22828 to sign up.